This post may contain affiliate links, which means I receive a commission if you choose to purchase through links I provide (at no extra cost to you). As an Amazon Associate I earn from qualifying purchases.
This post has been compensated by Collective Bias, Inc. and its advertiser. But the words and story are my own – I'll only share things I really love. #SummerSoStrong #CollectiveBias
Today is the first day of summer! Weird since its felt like summer for weeks now, but now it's official ;). One of our favorite things to do when it's nice outside is have friends over and just let the kids go wild in the backyard. I have such great memories from my own childhood of doing the same thing and it's really fun to see my kids actually playing with other kids. We usually order pizza or BBQ, keeping it super simple for everyone.
I'm a huge fan of using paper plates in the summer to save me some major time and effort but I hate how flimsy they usually are. Nothing worse than a 4-year-old throwing a fit because her dessert plate collapsed… not that I would know ;). Problem solved! Dixie Ultra® are plates and bowls that are super strong and sturdy – the 10″ plates can hold up to 2lbs of food, which is pretty impressive. Plus, Target has the cutest exclusive patterns and 25% off via Cartwheel through 7/1, so I'm stocking up for the Fourth.
I put the Dixie Ultra plates to the test with this watermelon pizza bar… super easy and a great way to make dessert healthy and fun. Plus, I totally get to trick my 2-year-old into eating all. the. fruits. because he gets to make his own, so total mom win there. You can shop 'em by hovering over the image below: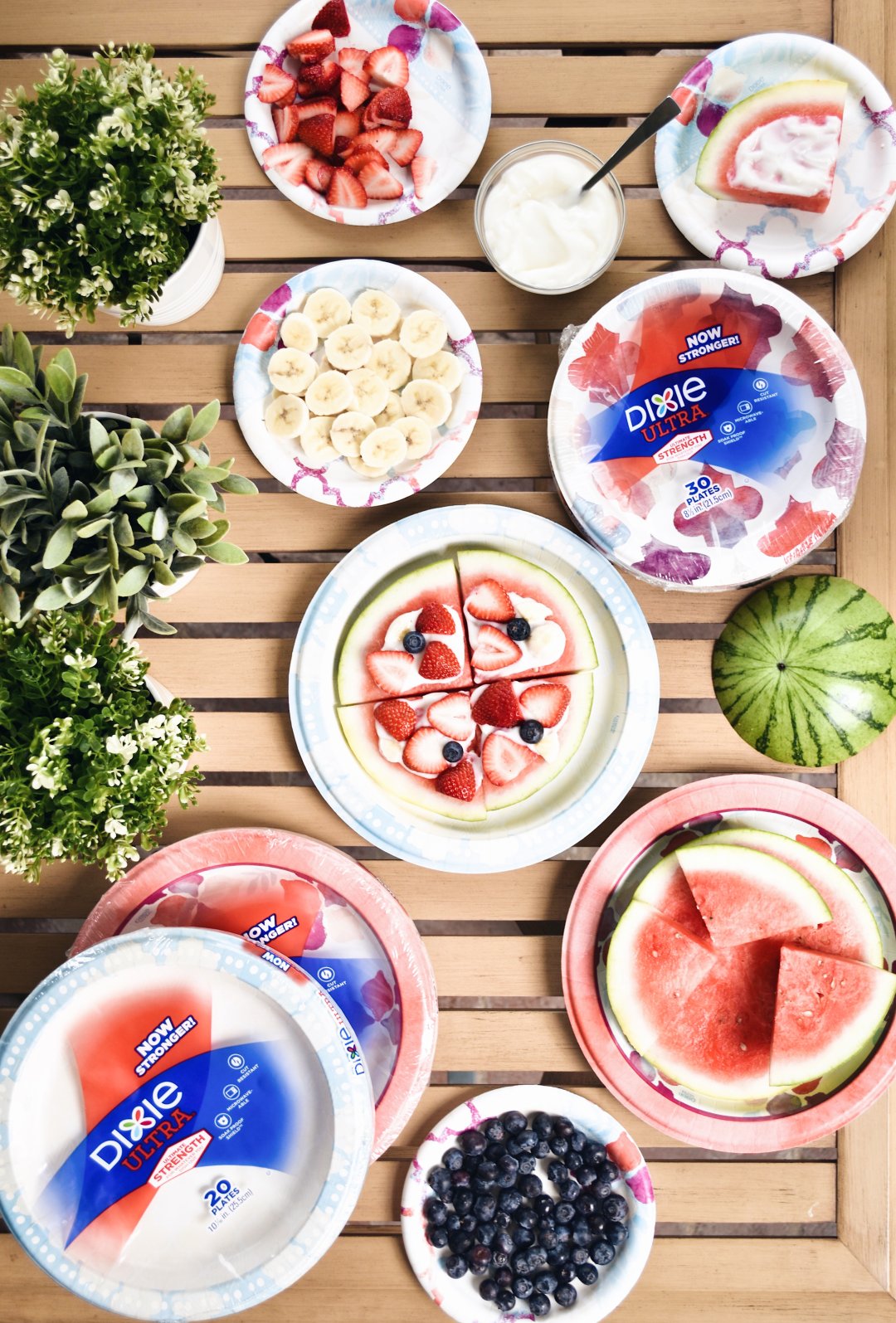 Prep
Cut a mini watermelon on its side in full circle slices. Then quarter those slices.
Wash & prep the fruit. I used sliced banana, whole blueberries, and sliced strawberries. Other good options would be kiwi, peach, nectarine, sliced grapes, granola, apple slices, even chocolate syrup drizzle.
Spread vanilla yogurt on the watermelon slices.
Let the kids 'top em and enjoy! Don't forget to make one yourself – they are GOOD!
See More Food + Easy Recipes:
What's your favorite summer treat? I hope you enjoyed this watermelon pizza recipe, be sure to check out more Recipes before you go!